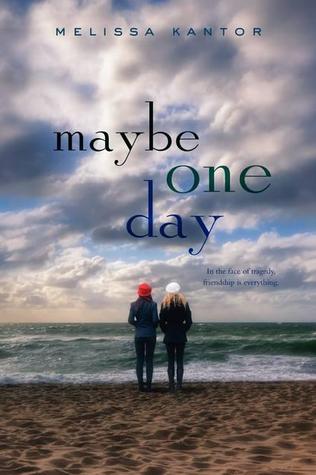 Title: Maybe One Day
Publisher:
HarperTeen an imprint of HarperCollins
Genre:
Young Adult Fiction - Contemporary, Realistic Fiction
Release Date: February 18, 2014
Source: Audiobook borrowed via library, opinions are honest and my own. – review policy here.
Always read the synopsis for an audio book *doh*
One of my favorite things lately is to choose a weekly audiobook from the Overdrive app. I usually pick things that look interesting and are available immediately. Picky, I know. Anywho.. I had no clue what this what about when I pressed play. I found out quickly it's a story about Olivia and Zoe, and all that happens when Olivia is diagnosed with cancer.

The narrator was really good and the story is written beautifully but I'm not sure I would've chosen such a heavy read in audio format. I think it caused more tears than I wanted to shed.
Girls rule, boys drool
I loved this book because more than anything it was actually about friendship. Sure there's boys but they're around for comfort, kind of like the opposite of the Bechdel test. This is about two girls who grew up together loving to dance and dance, until they were dismissed. Then it's about them figuring out life after dance and pondering all the things they'll do one day. This is about that friendship you only form once in a lifetime. It's beautiful, delicate and something to envy.

There is some minor romance but it is just that, minor. So if that's what you're looking for, carry on. If you want to know what it's like to have that impenetrable friendship for life, read this. Love Olivia and Zoe, grown with them. It was pretty awesome.
ALL. THE. FEELS.
Warning!!! There are feels in this book. Everyone on the highway probably thinks I'm a crazy person who ugly cries on the way home. I was a HOTT mess and then towards the end I just curled up in my reading chair with my headphones in and the lights off. My partner thought I was sick but I said "No, this is so sad." and then he covered me with a blanket as I laid there to heal. So yes, read this!!!!! Just maybe not in public.
4 Stars – This friendship absolutely wrecked me. Excuse me, I need to stitch my heart back together now.