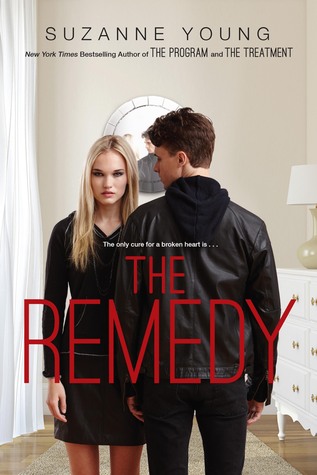 Title: The Remedy
Series: The Program #0.5
Publisher:
Simon Pulse, an imprint of Simon & Schuster
Genre:
Young Adult Fiction - Science Fiction, Dystopian
Release Date: April 21, 2015
Source: ARC provided by the publisher, opinions are honest and the reader's own. – review policy here.

A huge thank you to Meghann for sending me this ARC and letting me review it!

I was a bit nervous to read this because I LOVED The Program but The Treatment let me down a bit. I was wondering which way this book would go. The synopsis immediately intrigued me though.
Here it is:Quinlan McKee is a closer. Since the age of seven, Quinn has held the responsibility of providing closure to grieving families with a special skill—she can "become" anyone.
Recommended by grief counselors, Quinn is hired by families to take on the short-term role of a deceased loved one between the ages of fifteen and twenty. She's not an exact copy, of course, but she wears their clothes and changes her hair, studies them through pictures and videos, and soon, Quinn can act like them, smell like them, and be them for all intents and purposes. But to do her job successfully, she can't get attached.
Now seventeen, Quinn is deft at recreating herself, sometimes confusing her own past with those of the people she's portrayed. When she's given her longest assignment, playing the role of Catalina Barnes, Quinn begins to bond with the deceased girl's boyfriend. But that's only the beginning of the complications, especially when Quinn finds out the truth about Catalina's death. And the epidemic it could start.

THIS BOOK. I loved it even more than The Program. I was on an emotional rollercoaster the whole time! I loved the relationship between Quinn and Deacon, her former partner and former boyfriend turned best friend. The humor between them was fun and reminded me of Sloane and James. On the actual "closer" job, I was somewhere in the middle. I can see how this could be a beneficial therapy but I also found the idea SUPER creepy and unhealthy for the grieving families. Quinn was such an interesting character. We essentially follow her tailspin into insanity. It was awful to watch but so addicting. My favorite thing about this book was how psychologically intense it was! There was a point in the book where she stopped investigating some of Catalina's mysteries and that bummed me out. This cooling off period didn't last too long. I won't spoil it, but after her assignment with the Barnes and Isaac, she had a few mysteries of her own to unravel along with getting back to Catalina's. THE END OF THIS BOOK HAD MY HEART RACING. It was still racing after I finished! I couldn't help myself and HAD to ask the author on Twitter if we will get more Quinn and she said yes! *happy dance* My only complaint about this book would have to be some of the character's physical descriptions. I feel like I didn't get enough to form clear pictures of them in my mind. I mostly just made them up myself.
Otherwise, I loved this book and I am definitely ready for more! Five out of five stars!