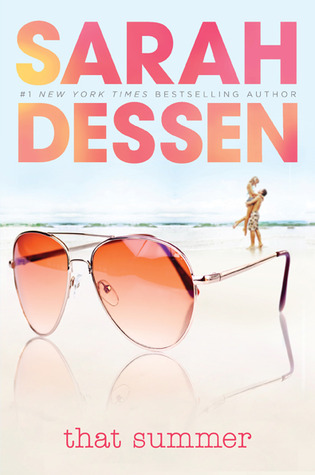 Hey Hey!!!
Penguin Teen asked me to be a part of their #IHeartDessen month and I happily joined in! I first saw Sarah Dessen when she was on tour with Gayle Forman during the fall in Chapel Hill, NC. Since she is a local North Carolinian I gathered up my books and headed over there. I was immediately drawn to her and became super stoked about reading more Sarah. :)
I was super lucky when I saw her again a couple weeks ago as she was on tour for Saint Anything. Great conversation about how her books are not really all that romantic (I agree!) but deal with deep issues.
This is so true for That Summer. I immediately connected with Haven as she deals with the aftermath of her parent's divorce: her dad's remarriage, mom's new life, and her sister getting married and leaving home as well. In fact, it seems like everyone has moved on except for 15-year-old Haven. As a way of coping Haven finds her last "happy" family memory which was a vacation in Virginia Beach along with her sister's ex-boyfriend, Sumner, years earlier.
What results is a heartfelt story about family and sibling friendship creating a solid debut novel from Dessen about 17 years ago! Dessen is now on her 12th novel and stated at the reading that if she didn't write anymore she'd be happy with her new novel being her last. However, this is probably not her last novel! *fingers crossed*
So now it's giveaway time!! :) Penguin Teen was nice enough to send me an extra paperback of That Summer so I'm passing it on to my readers and it's even signed by Sarah Dessen!
Giveaway is available in the U.S. only and open until June 8. Entries will be verified.